How to name a file: Interoperability considerations¶
One of the most fundamental data management tasks is naming files.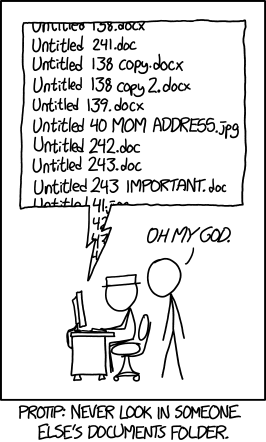 This may sound mundane to some — "yeah, I guess I can't manage data if it doesn't have a file name, but what's the big deal? I already know that I shouldn't use spaces in file names". Other people take it to the edge of bikeshedding and beyond: "Let's start each file name with the ISO 8601 date format of its first modification for better sorting!" But between the two extremes, there are a surprising amount of interoperability considerations — practices and tips to ensure cross-platform compatibility — in order to create file names that work on your own as well as on anyone else's machine.
This matters because the files, directories, or repositories that you may at some point share with friends, colleagues, or the entire internet should successfully make it to those other people's computers, and on those computers they should be usable for their intended purpose. As you will see in some examples below, having a completely fail-safe file name is the first step in ensuring this. Coincidentally, a short deep-dive into interoperability hacks for file names will probably also teach you some fascinating facts about your own or other operating systems, file systems, or common tools that you may not have known yet.